Personnel Elevators
Unique Features:
Rectangular Masts for stability
Safety Mechanical and Electrical Components included
We partner with a Motto Elevation S.L., a young, energetic and innovative company based in Spain that creates access solutions that meets customers' requirements and satisfaction for construction, mining and oil and gas industries and also for use in wind power and port applications. Motto Elevation has a strong presence in Spain, France, Russia and the Middle East.
We distribute ML Series personnel elevator throughout Asia.
Specifications for Motto Elevation Personnel Elevators are as follows:
General Data
ML03
ML20
ML30
Max Load Capacity
300 kg
1000 kg
2000 kg
Max No. of People
3
10
20
Elevation Speed
18m/min
25 m/min or 36 m/min
25 m/min or 36 m/min
Maximum Height
150 m
Standard mast 150 m or Reinforced mast 250 m
Standard mast 150 m or Reinforced mast 250 m
Cabin Access

Vertical sliding door with 1 leaf
Vertical sliding door with 2 vents
Door with one left for the mast access

Vertical sliding door with 1 or 2 vents
Vertical sliding door with 1 or 2 vents
Max Distance between Anchors
8 m
6 m
6 m
Max Wind Speed
Working: 72 km/h
Assembly / Disassembly: 45 km/h
Working: 72 km/h
Assembly / Disassembly: 45 km/h
Working: 72 km/h
Assembly / Disassembly: 45 km/h
Please see product video here for more information
ML Series is declared to comply with European Directives and harmonised standards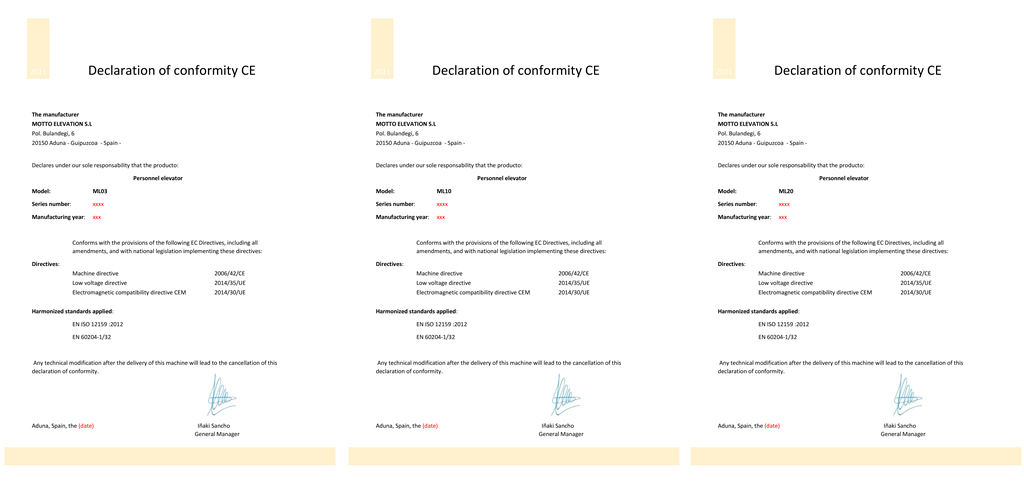 Back